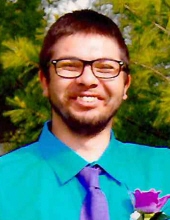 Obituary for Dontay L. Moss "Towchains"
Dontay L. Moss passed away unexpectedly on March 17th 2020. He was born on April 16, 1997 in Fond du Lac. 

Dontay graduated from Fond du Lac High School. Dontay was employed with Signature Wafers out of Ripon; before that, Brenner Tank, Toms Millworks and Richelieu Foods. 

Dontay was a fun-loving person with a laugh and smile that was like no other; he liked to make people smile and laugh. Dontay enjoyed running in Demolition Derbys, having parties around the bonfire, riding dirt bikes and playing the Xbox. Dontay loved fishing. He had a great love for animals and working on his Mercury Grand Marquis and was proud to show what he did to that car to everyone. Dontay enjoyed drawing and putting together model cars. As a child, Dontay was involved with the Fond du Lac BMX club and won lots of 1st places. He was a Member of North Fond du Lac Boy Scouts pack 3747. 

Dontay is survived by his parents, Jerry and Amanda Moss-Lepinsky; his biological mother, Heidi Christensen; brothers, Justin Moss, Nathan Drewry and Michael Christensen; sisters, Samantha Moss, Lexus Moss-Lepinsky and Olivia Zietlow; two nieces, Bhail and AllyRay; Grandparents, David and Cheryle Lepinsky; Grandparents, Marvin and Joyce Christensen; grandmother, Lora Moss and grandmother Sandy; aunts and uncles, Rexallen and Kim Moss; Tim and Chris Mickus, Bruce Hybert, Jackie Moss, Jeff Moss, Terry Moss, aunt Mel, Matthew and Lisa Christensen, Carmen Collar, Sue Christensen; his ultimate best fur friend, Zayda; lots of cousins and other relatives and many, many friends. 

Dontay was preceded in death by his grandparents, Raymond and Patricia Moss; uncle, Danny Moss; aunts, Shelly Hybert and Pearl (Smith) Snyder. 

Services: The family has chosen to have private services and public services will be postponed for a later date. 

In Lieu of flowers, memorials in memory of Dontay, care of Jerry Moss may be directed to PO Box 464, Fond du Lac, WI 54936.


Events
Event Information
Services will be set for a future date to be determined.