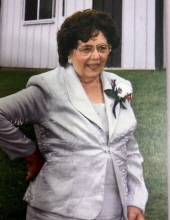 Obituary for Joan M. Dreifuerst
On the morning of September 25th, Joan Du Frane Dreifuerst, aged 90, reluctantly took her last breath here on earth and began her heavenly journey.  She was born on July 14, 1929 to Eugene and Monica Du Frane.  She attended Lincoln grade school, Roosevelt Junior High and Fond du Lac High School and graduated with the class of 1947.  Joan loved to sing and was awarded a scholarship in music to Marian College.  She sacrificed her opportunity to pursue her love of music and instead took a position at the Fond du Lac Abstract Company. 

On August 20, 1955 she married Paul B. Dreifuerst at St. Louis Catholic Church and last month they celebrated 64 years together.  Joan loved to spend time with her large family which included 7 children, 22 grandchildren, and 15 great-grandchildren.  She especially enjoyed the large holiday celebrations and playing Skipbo with the grandkids.

Joan was a dedicated volunteer.  At her children's schools she was a room parent, supervised the playground, and organized large events such as the school fun fairs and talent show.  Joan served as president of the St. Anne Society at St. Louis Church and regent for the Daughters of Isabella.  Joan was also a member of the Soroptimist International and more recently was an active member of the Holy Family St. Patrick's Rosary Guild.

Joan's passion for volunteerism transitioned into her career as the Director of the Foster Grandparent Program in Fond du Lac County.  She took a relatively new and fledgling federal human service program and grew it to where as many as 90 grandparent volunteers were placed at numerous schools and day care centers in Fond du Lac County to provide children with individualized assistance in subjects such as reading and math.   The success of the program was in great part to Joan's aggressive and persistent recruitment of "grandparent" volunteers and the care in which she matched the volunteers with teachers and day care providers.  Hundreds of Fond du Lac children and grandparent volunteers have benefited from the success of the program under her direction.

Joan Du Frane Dreifuerst was president of Du Frane Moving Co., Inc., which was started in 1931 by her father Eugene.  She grew up in the household moving industry and upon his death persevered to keep the company afloat until the time when the next generation could take a leadership role and grow the company into a well known and respected moving and storage company.   

Joan is survived by her husband Paul, her children Karen and her husband James Henry, Joanie, Diane and her husband Keith Peters, Tom and his wife Kathryn, Paul and his wife Chris, Judy and her husband Lucky Wurtz, and Jim and his wife Cathy.  Her grandchildren include Eric (Amanda) Henry, Aaron (Andrea) Henry, Amber (Jeremy) Herman, Janessa (Jacob) Schneider, Barbara (Brian) Luera, Beth (Jason) Schultz, Jennifer Peters,  Julia Peters, Karl Peters, Thomas (Holly) Dreifuerst, Ben Dreifuerst, Sam Dreifuerst, Monica  Dreifuerst, Isaac Dreifuerst, Anastacia (Louis Hurd) Wurtz, Aristotle Wurtz, Dylan Wurtz, Francesca Wurtz, Joshua Dreifuerst, Makenna Dreifuerst, Anistyn Dreifuerst, and Shaylyn Dreifuerst.  Great grandchildren are Hudson, Dawson and Stella Henry; Liam Henry; Brea and Blake Herman; Lennox Luera; Marcus, Cole and Dominic Schultz; Ava Zommers; and Will, Emma, Brynn, and Adison Dreifuerst.  She is further survived by her brother Gene (Gail) Du Frane, sisters-in-law Eileen Dreifuerst and Margie Dreifuerst, nieces, nephews, cousins and friends.

Preceding her in death were her parents, Eugene A. and Monica E. Du Frane, her brother Noel, her sister-in-law Lucy Du Frane, her mother and father-in-law Herman and Ida Dreifuerst, and in-laws Marvin & Mary Dreifuerst, and Harold Dreifuerst.

Services: The family will receive relatives and friends on Tuesday, October 1st at Zacherl Funeral Home 875 E. Division Street, Fond du Lac, WI 54935 from 4:00PM -7:00PM and also on Wednesday October 2nd from 9:00am to 9:45am at Holy Family -Sacred Heart Catholic Church 200 S. Peters Ave., Fond du Lac, WI.  There will be a Mass of Christian burial at 10AM followed by burial at St. Charles Cemetery.

Joan loved the color red and wide brimmed dress hats.  Please honor her memory by wearing either.

Memorial donations may be directed to St. Patrick's Rosary Guild, c/o Sandy BIrschbach, 624 Mary Lee Dr., Fond du Lac, WI 54935.


Previous Events
Visitation
Zacherl Funeral Home
875 E. Division Street
Fond du Lac, WI 54935
Visitation
Sacred Heart Catholic Church
200 S. Peters Avenue
Fond du Lac, WI 54935
Service
Sacred Heart Catholic Church
200 S. Peters Avenue
Fond du Lac, WI 54935
Graveside
St. Charles Cemetery
W4287 Golf Course Road
Fond du Lac, WI 54937
Cemetery Details
Location
St. Charles Cemetery
W4287 Golf Course Road
Fond du Lac, WI 54937
Memorial Contribution
St. Patrick's Rosary Guild
c/o Sandy BIrschbach, 624 Mary Lee Dr.
Fond du Lac, Wisconsin 54935