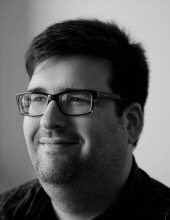 Obituary for Karl A. Zimmerman
Karl Zimmerman, Founder and CEO of Steadfast in Chicago, age 36, passed away unexpectedly on March 5, 2020 in Chicago, IL. He was born December 25th, 1983 in Fond du Lac, Wisconsin and was adopted by the loving family of Catherine and Gary Zimmerman.

Growing up in Fond du Lac, Karl was an active child filled with an unmeasurable drive. While he loved the thrill of competing on the fields of football, baseball, and everything related to his beloved Green Bay Packers, his passion for technology would prove to be his calling.

At the age of 14, Karl used $100 of his Christmas money to purchase a reseller account to start a shared hosting business. Karl was teaching individuals and small business HTML coding to help build websites that eventually evolved into hosting their websites, as well. With special permission from the school counselors at Winnebago Lutheran Academy, Karl was the only child allowed to carry a mobile phone at school so that he could work with clients in between classes. With a growing business, Karl joined Northwestern University as a freshman in 2002 to study Economics. During his sophomore year, Karl hired his first full-time employee, moved his hosting services into a world-class data center facility at 350 E. Cermak in Chicago, and a year later made the decision to leave school and spend 100% of his time growing Steadfast Networks. Today Steadfast is a multi-million-dollar cloud and managed hosting services provider.

Karl was not just an ambitious entrepreneur; he was a valued member and advocate of the Illinois technology community who wanted to help others succeed as he did. Karl used Steadfast as a platform of influence in the service of promoting educational and technology initiatives for students in Illinois. As a board member on the Rotary Club of Chicago, Karl spearheaded programs, such as the JOB1 program which trains Chicago high school students and helps to place them into summer internships with local companies.  Karl sat on the board of directors of the Chicago Engineers Foundation, where he was working to help promote STEM education programs for computer science in Chicago Public Schools. Karl also served as a member of the Internet infrastructure (i2) Coalition, where he frequently traveled to Washington DC to advocate for an open and fair internet to politicians and policymakers. Karl championed LGBT rights and used his influence to fight for equality.  Additionally, Karl has been an active member and key supporter of economic growth programs from the Chicagoland Chamber of Commerce, Hyde Park Angels, and many other associations.

More important than all the accomplishments, it was Karl's character that will endure. Karl was a loving and devoted son to his mother and father and his family, a true and humble friend to all of those that knew him, and a mentor and role model to those that were fortunate to work with and learn from him. His legacy will grow eternal from the wisdom and example he gave to many.   

Karl is survived by his mother, Catherine Zimmerman; uncle, James McGillivray (Veronica); aunts, Gwen Hartmann and Joann McGillivray; his step-family: mother, Christine Zimmerman; brother, Ryan Zitlow (Kristin) and their children Jayden, Brantley and Mayah; sister, Christy Zitlow and aunt, Kay Fleischman (Lenny). He also leaves behind many cousins and countless friends.

He was preceded in death by his father, Gary Zimmerman; grandparents, Wilfred and Marian McGillivray and Gordon and Doris Zimmerman and uncles, Hugh and Angus McGillivray and James Hartmann.  

Services: Please join us celebrating his life on Friday, March 13, 2020 at Zacherl Funeral Home, 875 E. Division St, Fond du Lac WI. Visitation will be from 9:30 to 11:45 AM and a Memorial service will be held at 12:00 Noon.

In lieu of flowers, donations may be made to Rotary One Foundation, Rotary Club of Chicago, 65 W. Jackson St, Chicago, IL 60604, or Winnebago Lutheran Academy, 475 E. Merrill St, Fond du Lac, WI 54935.


Previous Events
Visitation
Zacherl Funeral Home
875 E. Division Street
Fond du Lac, WI 54935
Service
Zacherl Funeral Home
875 E. Division Street
Fond du Lac, WI 54935
Memorial Contribution
Rotary One Foundation, Rotary Club of Chicago
65 W. Jackson Street
Chicago, IL 60604