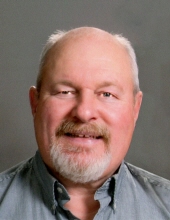 Obituary for Mark B. Nelezen
On Thursday, February 21st, 2019, Mark Bernard Nelezen, loving husband, father, and brother, passed away at the age of 66 in Mesa, Arizona.

Mark was born on January 8th, 1953 in Green Bay, WI; he was adopted on March 17th, 1953 by Clarendon and Marian Nelezen of Oshkosh, WI. He graduated from Lourdes High School in 1971, and attended the University of Wisconsin-Oshkosh. He worked for the State of Wisconsin for 30 years in the Department of Health and Human Services until 1990 and the Department of Community Corrections- Probation and Parole until his retirement in 2009. He received the Top Cop Award by the Winnebago County District Attorney's Office in 2002 while a P&P agent. Mark was known for his work ethic; beyond his many roles with the State of Wisconsin he started his own painting business in 1969 while still in high school. He continued painting professionally until his final days. Mark was also the Property Manager for the Village at Westhaven Condo Association for 4 years during his retirement. On August 1st, 1987 he married Cynthia Arts; they enjoyed 31 years of marriage. In 1992, they welcomed their lovely daughter Abigail.

Mark was a man of many interests and seemed to know a little something about everything. He loved and cherished history, which he fulfilled by becoming a lifetime member of the Lewis and Clark Trail Heritage Foundation in 2014. He was elected and served 4 years as a board member for the national LCTHF, and was a member of the Badger State Chapter of LCTHF. He frequently enjoyed many trips into nature following in the footsteps of Lewis and Clark. He also had a passion for aviation, which led to he and Cindy hosting many guests during the EAA Air Show in Oshkosh, WI. The Nelezen home was a haven to all who shared Mark's interest in flight, as 2019 would mark the 30th year he and Cindy opened their home to an extended family of flight enthusiasts.

In 2015, Mark and Cindy began to winter in Mesa, AZ, and they quickly found a second family with all of the new friends they made. In retirement, Mesa became a new home they were excited to share with anyone who wanted to visit. They also began traveling the world at what seemed to be record pace during their retirement. Together, Mark and Cindy balanced seeing many of the various places on Mark's bucket list with visiting family across the country. Mark could frequently be found with an atlas in hand to plot his course to a National Park or U.S. historical site.

Mark was a constant student who was eager to learn; something he fostered in his family's lives. An ardent believer in education, Mark was extremely proud to see his daughter continue her own education in medical school. In his own pursuit of knowledge, he could frequently be found with a new book in hand, reading for hours, which would most likely be followed by a nap in his recliner. Everyday gave him a new bit of information, or "nugget" as they were referred to, that he was happy to share with anyone. He was known for his dry wit, boisterous laughter, and endless curiosity about the little things.

Though he had a veil about him, Mark was a generous man as well. He gave of himself to the world during his time; ranging from the small things, like sharing his many opinions on sports or specifically the Green Bay Packers, to the essentials of life. Mark was diligent as a blood donor, and would then be proud to know in death he was still able to give; as he helped someone in need as an organ donor.

Mark is survived by his loving wife Cindy, his daughter Abi Nelezen (Evan Davies), his sister Carlene Flaherty (Doug Flaherty), his nephews Jeff Wheeler (Leigh Gilman) and their children Aaron and Margot, Dan Wheeler (Grace Park) and their son Owen, and Matt Wheeler. He is further survived by sister-in-law Nancy Lee Arts, and many other relatives and lifelong friends. He was preceded in death by his father, Clarendon, his mother Marian, and his in-laws, James and Iline Arts.

A celebration of Mark's life will be held on Saturday March 23, 2019 at St. Raphael's Catholic Church, 830 South Westhaven Drive, Oshkosh, WI 54904. Visitation at 9:30am, service at 11:00am. 

In keeping with the traditions of Lent, the family requests memorials in Mark's honor to the Lewis and Clark Trail Heritage Foundation (LCTHF) or the Oshkosh Area Humane Society in lieu of flowers.

The family was assisted by Sonoran Skies Mortuary of Mesa, AZ and Zacherl Funeral Home of Fond du Lac, WI. The family would also like to thank their friends and neighbors in the Mesa Spirit Resort.

Mark had a great run, living life on his terms until the end. He now hits The Trail.
Previous Events
Visitation
St. Raphael Catholic Church
830 S. Westhaven Drive
Oshkosh, WI 54904
Service
St. Raphael Catholic Church
830 S. Westhaven Drive
Oshkosh, WI 54904